COMPANY HISTORY

Swimming Pool and Hot tub sales, service and installation. We offer a wide variety of pool pumps, filters, heaters, cleaners, liners, covers and much more. Our mission is to help inspire our customers to create the ultimate leisure space, your outdoor living room.
Your outdoor living room will give you the ability to relax and recharge with family and friends - with no traffic and only steps away. Let us help you make your vision become a reality!
Solar Swim has been operating in Orangeville and the surrounding areas since the 1970's. We contribute to the community through donating and working with Orangeville minor baseball association, headwaters Health Centre. Mark Donaldson, the current owner was born and raised in Orangeville, his ancestors having arrived in neighbouring Mono in 1834
Our goal is to provide for our customers the highest level of service and expertise available by being committed to ongoing learning, training, and education and following principles that encourage cooperation, integrity and honesty that will allow our customers the greatest opportunity to enjoy their relaxation time with their families.
Donations - 3% of all chemical sales goes to Share the Gift of water
What your contribution will do:
Provide a long-lasting solution to potable water shortages
Decrease the incidence of water-borne diseases
Provide greater opportunities for women and families
Increase environmental awareness and environmental rehabilitation / preservation
Assist with the alleviation of rural poverty

---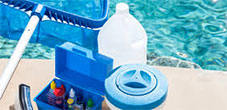 Solar Swim offers a variety of pool installation related services to ensure that we can serve our clients in every way possible. From a new pool installation or to upgrades and renovations to your existing pools, Solar Swim has the expertise and experience to meet your needs. We specialize in in-ground vinyl liner and fiberglass pools as well as above ground and on-ground Radiant pools.

Solar Swim has a wide variety of Hot Tubs and Swim Spas for you and your family to enjoy year-round. When you're relaxing, you enjoy life more. It is easier to converse, share intimacies, smile and laugh. You will look forward to your times in your hot tub or swim spa. Hot Tubs and Swim Spas are also great for entertaining company.